The Greatest Risk to Cannabis Businesses in the USA May Be the Potential for Product Liability Issues
"Large numbers of cannabis businesses reportedly remain woefully underinsured and exposed to product liability. The good news is that the cannabis insurance space is evolving to address the industry's needs."– Phillip Skaggs, AAIS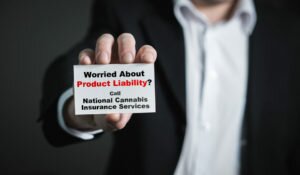 According to Phillip Skaggs, assistant counsel at the American Association of Insurance Services (AAIS), the BIGGEST concern to the growing cannabis industry is not federal seizure and prosecution of "illegal substances" but rather the potential for product liability claims against cannabis businesses.
As Mr. Skaggs explains it succinctly via theRough Notes websitearticle, Understanding Issues Lets Agents Help Clients Address Risks:
"The three basic theories of product liability are design defect, manufacturing defect, and warning/instruction defect. All three are relevant to the cannabis industry.
Design defect claims involve allegations that a product is inherently dangerous based on some flaw at the design stage of product development. The question is whether the defect was planned or apparent before production began. For example, a claim may arise from a vaporizer that, because of its specifications, routinely overheats to the point that it can burn skin, explode, or melt surrounding materials. Another claim may concern a cannabis edible made from a recipe that incorporates a material known to be hazardous under certain conditions. A design defect affects every product that is created according to that design.
Manufacturing defect claims allege that a product is safe in theory and design but that an error during the manufacturing process rendered it hazardous to consumers. Compared with design defects, manufacturing defects usually affect fewer batches or individual products at a time.
Manufacturing defect claims can arise from contaminated cannabis edibles. An entire batch of edibles may be defective because of a faulty ingredient or contamination, but the recipe itself and products produced before and after that batch may be fine. Similarly, a vaporizer may present a manufacturing defect if the unsafe condition is caused by a faulty component, such as a leaky battery, rather than the product's actual specifications.
The third category of cannabis product liability is warning/instruction defects. The manufacturer has a legal duty to warn the consumer of potential danger. The theory is that the product itself is not defective but that the manufacturer's representations to the consumer are inadequate or incorrect. Warning/instruction defect claims are common with medications where the product label does not advise the user of adverse side effects, age restrictions, or the dangers of combining the medication with other substances such as alcohol.
With respect to consumable cannabis products, labeling may not mention the concentration of THC content and the number of servings, arguably leading individuals to over consume. In regard to vaporizers and other accessories, packaging materials may not provide adequate instructions on appropriate use, maintenance, and cleaning that would minimize the potential for injury."
You can read Mr. Skaggs' full article on product liability and more in the cannabis industry by following this website link.
Since the cannabis industry is a burgeoning one with many issues and logistics yet to be fully understood and hashed-out, there is much to be prepared for as the cannabis or marijuana business world goes through growing pains.
Competent insurance professionals like National Cannabis Insurance Services can be a valued partner to business owners (both growers and dispensaries) in terms of protecting your assets and investments and the future of your business.
We offer product liability insurance for cannabis operations. You can learn a bit more about National Cannabis Insurance Services here.
Finally, if you have a question or concern about getting into the cannabis industry in terms of insurance coverages, or if you're already in the business and want coverage for your future success and protection, please don't hesitate to contact us. We'll get back to you quickly.